What we do
OnlineStreamData.com is the premiere resource for Public Utility Districts, Local Utilities, Aquatic Engineering Firms, Government Agencies, Water Recreation Companies, and anyone else that needs to view and interpret real-time stream data from the NOAA GOES LRGS Satellite system.
Our systems get your transmission data from NOAA's LRGS, decode the information, store it into a searchable relational database system, and then make that information easily accessible to you. In the past you needed to use specialized LRGS software that was hard to use, limited in functionality and scope, and restricted your search history. OnlineStreamData.com makes all of your informaiton available via an easy-to-use Web interface and provides: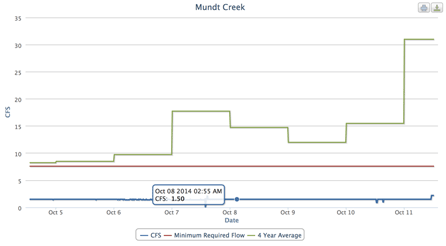 Complete date searching
Interactive graphs of data
HTML Tables of data
CSV downloads
Excel file downloads
Calculated Averages
A REST API to access the information with automated systems
Our systems allow you to enter the CFS equation into the database with an effective date and have all data from that effective date forward use the new CFS equation. The historical CFS equations are kept and used for data gathered during that time. You can also provide mininum and maximum values for a station and data points that fall out of that range are flagged.
We can interpret regular hourly transmissions as well as the emergency binary broadcast format. Alerts via TXT, email or phone call can be programmed for the emergency broadcasts so key personel can be alerted to water events.
How we do it
With decades of experience running high-reliability software as a service systems, OnlineStreamData.com takes every precaution with your data and our systems. Every connection uses HTTPS for secure data transfer. Our systems use specialized RAID hardware with battery-backed write caching, mirrored drives, real-time replicated databases to off-site locations, regular vulnerability scanning, and hardened systems that use only SSH with two-factor authentication.
Our engineers have over 10 years of experience working with NOAA GOES transmission sites and LRGS. They know the little tricks to make sure your data comes through correctly and accurately and can work with your aquatic engineering team in the setup and testing of your transmission station's broadcasts.
Get in touch
Our cost is much less than hiring an in-house developer/programmer and you benefit from the constant updates, maintenance, and new features added to our systems. A moderate startup cost is quickly made up for with yearly maintenance fees of usually less than $1,000. You get the full range of our products, telephone and email support, and feature updates as they're made available. Easy access to your infomration is key and we make that happen in short order getting you the data you need and want quickly and reliably.
For more information or to talk to someone about getting your data into your hands without the hassle of LRGS, give us a call or email. mark@onlinestreamdata.com 206-923-8912.